CTEK CTX Battery Sense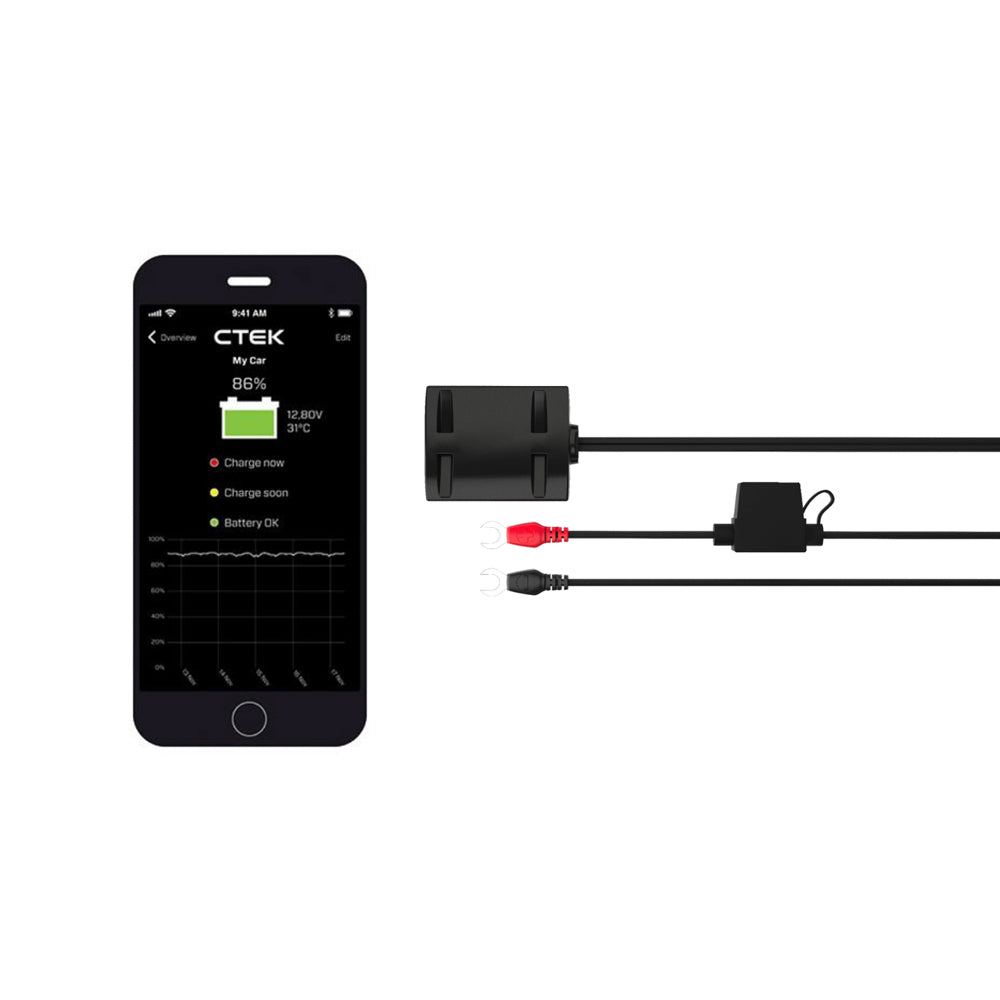 ---
MAKE SENSE
BATTERY KNOWLEDGE DIRECTLY IN YOUR POCKET
Battery Sense (Part #40-149) makes it possible to show you the state of charge of all your batteries in real-time.
Battery Sense provides valuable knowledge about your batteries in a simple, user-friendly, and transparent way. Knowledge of your batteries' charge level makes it easy to monitor their health status and thus maximize your battery performance and service life. This knowledge will allow you to avoid costly battery replacements and annoying vehicle breakdowns. 
MAKE YOUR BATTERIES TALK TO YOU
Connect Battery Sense to the battery and download the app. Your batteries will now start "talking" to you via your smartphone. With Battery Sense connected, you don't have to worry about when to charge. Just walk to your car or vehicle and Battery Sense will communicate with you via Bluetooth – you don't even have to start the engine. Battery Sense will show you all your batteries' State of Charge. The app will warn you when you have to charge, well in advance
CHOOSE THE RIGHT CHARGER FOR YOU
Battery Sense gives you full control of all your vehicles' batteries and allows you to choose the CTEK charger that suits you and your vehicle when it's time to charge. CTEK has a wide product range that enables you to choose a charger for each vehicle and occasion. With Battery Sense and appropriate CTEK chargers, you get a complete battery care package.

2-year warranty.
Designed to fit MULTI US 3300, MULTI US 7002, US 0.8, MUS 4.3, MXS 5.0, CT5 Powersport, Murs 7.0 MUS 4.3 Polar, MUS 4.3 Test & Charge, and CT5 Time to Go battery chargers.
TECHNICAL SPECIFICATIONS
Model number 1088
Rated voltage DC: 7.0–16Vdc
Min battery voltage: 7.0Vdc
Max current consumption: Less than 1mA @ 12.5V
Ambient temperature: -30°C to +85°C (-22°F to +185°F)
Battery types: SLI type of 12V lead-acid batteries
Battery capacity: 20–200Ah
Degree of Protection: IP67
Eyelet size: M6
Warranty: 2 years

Compatible with Android OS 4.4 or higher and iPhone iOS 7 or higher installed on iPhone 4S or later models.